Garmin GTN 725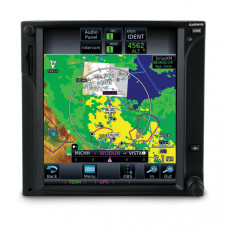 GPS Navigation Meets MFD Visualization
Integrated GPS/MFD system

Large 6.5" LCD touchscreen

Graphical flight planning

Displays charts, traffic, weather and more

Navigates LPV glidepath approaches
With its centralized, touch-controlled screen providing easy access to navigation, radio tuning, multifunction display features and more, our GTN 725 navigator offers complete GPS/MFD capability in a robust, single solution. It's approved for installation in hundreds of makes and models of fixed-wing aircraft and helicopters — putting high-resolution terrain mapping, graphical flight planning, georeferenced charting, traffic target surveillance, multiple weather options, taxiway diagrams and a host of other advanced navigation features at your fingertips.
To further streamline your cockpit management, GTN 725 integrates with other Garmin avionics to add exclusive industry-leading technologies such as Telligence™ voice command and Connext wireless cockpit connectivity to support data streaming between your avionics and the Garmin Pilot™, ForeFlight and FltPlan Go apps running on your iPad® tablet or another compatible mobile device. Any way you look at it, GTN technology is the logical choice for your avionics stack.
Touch and Go
If you've flown with our earlier-generation GNS™ 430 and GNS 530 series avionics, you'll find the menus of GTN 725 have a familiar layout and feel. But with the GTN 725 touchscreen interface, you're rarely more than 2 taps away from all of the system's primary functions. The large, easy-to-use alphanumeric keypad makes data entry a breeze. Pilot-selectable data fields and shortcuts let you quickly reach the information you need to access most. Much like pinch-to-zoom scaling on a smartphone or tablet, you can use your fingers to zoom in and out on any map, traffic and terrain pages. You can quickly pan across the moving map by swiping across the 6.9" high-resolution display or enter waypoint data with the full on-screen keyboard.
For added control stability in flight, raised grips in the bezel and a shelf across the lower edge of the display serve as gripping points in both smooth and turbulent flight conditions. Traditional concentric knobs are also available for those who prefer that style of data input. If you have a second GTN, GNS 430W or GNS 530W system, pilot-selectable cross-fill capability automatically shares active flight plan information from one system to the other.
Navigate with Ease
With the GTN 725 system, it's easier than ever to build and modify your flight plan. As you enter waypoints, our FastFind feature automatically begins searching for the nearest identifier as soon as you start typing — so in most situations a press or two reveals just what you were thinking. The system even lets you load Victor airways and high-altitude jet routes by conveniently displaying the airway segments available from a waypoint and the corresponding exit options. Graphical flight planning capabilities allow you to preview your entire route on the map, and the handy "rubber band" feature lets you grab any leg of your route and move it to accommodate amendments to your flight plan.
A dedicated Direct-to key on the GTN 725 bezel allows a direct GPS course to be entered for any selected waypoint. It also provides a quick menu of nearest airports and flight plan waypoints for instant entry. With high-resolution terrain mapping — including topography features, cities, airports, terminal areas, SUAs and more, plus optional Class A or B TAWS alerting — you'll confidently find your way around the sectional-like airspace depiction, with convenient altitude limits right on the moving map. The Smart Airspace™ feature automatically highlights airspace close to your current altitude and de-emphasizes airspace away from the current altitude. The FliteCharts® database or optional Jeppesen® ChartView™ service provide you with georeferenced approach plates and procedures, while our SafeTaxi® database overlays runways, taxiways, FBOs and hangars on the moving map.
Fly Approaches, Glidepaths, Holding Patterns and More
With almost double the GPS approach procedures available in the U.S. compared with ground-based ILS approaches, this SBAS/WAAS-certified GPS receiver can allow you to fly GPS-guided LPV glidepath instrument approaches down to as low as 200', greatly expanding your operational capability. For added flexibility, you can also select vectors to intercept your final approach course and set up a stabilized approach. Precise course deviation and roll steering outputs can be coupled to Garmin autopilots and select third-party autopilots so IFR flight procedures such as holds, NextGen radius-to-fix (RF) legs and missed approaches may be flown automatically.
In addition, GTN 725 lets you create and execute custom holding patterns over an existing waypoint or user-defined waypoint. This same technology can simplify search and rescue operations with the optional ability to add common search pattern types into the flight plan. This includes Orbit Search, Parallel Line Search, Expanding Square and Sector Search patterns. When operating in VFR conditions, GTN 725 can also provide advisory vertical approach guidance based on a published glidepath angle or a three-degree approach glideslope from the runway threshold, while considering terrain and obstacle clearance. With this advisory guidance, you're able to fly more consistent and more precise vertical glidepaths into a variety of airfields.
Add ADS-B Traffic, Weather and More
Available dual-link Garmin ADS-B equipage solutions, such as our GTX™ 345 series transponders or GDL® 88 universal access transceivers, allow GTN 725 to display up to 60 ADS-B traffic targets as well as subscription-free ADS-B weather data in the U.S. The ADS-B weather link provides in-flight access to animated NEXRAD imagery, METARs, TAFs, winds and temperatures aloft, PIREPs, NOTAMs and more. On the traffic side, both visual and audio alerts help you recognize and avoid potential conflicts in busy airspace. Our patented TargetTrend™ relative motion technology offers a faster, more intuitive way to judge the direction and closure rate of intruding targets in relation to your aircraft's position. And for even more advanced traffic surveillance in high-density airspace, GTN 725 can integrate with select TAS or TCAS systems, including our GTS™ family of traffic surveillance products.
At the start or end of each flight, TerminalTraffic™ technology provides the most comprehensive picture of ADS-B-equipped aircraft and ground vehicles in the airport environment. ADS-B-equipped aircraft in-flight are easily distinguished from ground vehicles and taxiing aircraft, which are displayed using distinct colors and symbols. All information is presented on a simple, easy-to-understand SafeTaxi diagram with reference to runways, taxiways, hangar locations and more. Additionally, when configured for helicopter operations, TerminalTraffic helps pilots easily distinguish potential traffic conflicts while in the airport environment by minimizing nuisance alerts from fixed-wing aircraft and abbreviating select alerts while performing unique helicopter maneuvers such as hovering.
Additional Weather and Connectivity Options
You can couple the GTN 725 system with a GDL 69 series datalink receiver to bring even more safety-enhancing (and enjoyment-enhancing) capabilities to your aircraft. With this arrangement, you're able to receive SiriusXM® satellite weather and audio entertainment3. There's also an optional GSR 56 receiver that can provide Worldwide Weather data virtually anywhere on the globe, as well as the ability to make and receive phone calls and send and receive text messages while in the air3. To help you better understand weather trends, all of the NEXRAD graphical datalink weather options are animated. You can also collect and display your own weather data with an onboard weather radar — such as the solid-state and Doppler-capable GWX™ 75 with its optional turbulence detection and ground clutter suppression features or a wide range of other third-party systems.
Audio Management with Voice Control
By pairing your GTN 725 with one of our GMA™ 35 or GMA 350 series audio panels, you can do even more to enhance and uncomplicate your cockpit communications. With available Bluetooth® wireless connectivity built in, these digital audio systems can be used with your smartphone (or other compatible devices) to make phone calls or stream audio entertainment through your cabin headsets or speakers. In addition, the remote-mount GMA 35 versions enable your GTN 725 touchscreen to double as the control panel for your audio system, providing intuitive audio menus while saving vital space in your avionics stack.
Then, for the crowning touch, our patented Telligence voice control feature enables you to activate key functions by using spoken commands. Intuitively based on phrases pilots commonly use, Telligence accepts hundreds of commands. For example, by simply pressing a push-to-command button on the yoke and saying "Show Flight Plan Page," GTN will automatically display the flight plan page. Or, when on approach to land, you can simply state "Tune Destination Tower" to load the tower frequency into the standby position. If ATC asks for your distance from the airport, state "Say Distance" to display a pop-up box with distance information, and have GTN read out the number so you can quickly relay that information back to ATC. With Telligence capability you'll feel as if you have a virtual co-pilot sitting next to you because GTN completes tasks without you taking your hands off the aircraft controls.
Cockpit Connectivity
For even more work-saving convenience, you can add one of our Flight Stream wireless gateways to your GTN system, allowing you to use our Connext technology to stream information between GTN and compatible Garmin portables or mobile devices running the Garmin Pilot, ForeFlight or FltPlan Go apps. With Flight Stream 210, you can stream information such as ADS-B traffic, weather, GPS data and backup attitude information in real time to your mobile device. In addition to those features, Flight Stream 210 enables flight plan transfer, making it easy to preload flight plans — waypoints, airway routings and all — onto your tablet, smartphone or portable device for quick uploading to your avionics once you've arrived at the airport. With an optional GSR 56 datalink, you can even utilize Garmin Pilot to send text messages and initiate satellite phone calls from your aircraft.
Database Synchronization
For even more capability, you can opt for our Flight Stream 510 to further enhance the Connext experience. This patented multimedia card contains Wi-Fi® and Bluetooth connectivity and installs in the memory card slot of your GTN 725 to provide flight plan transfer, traffic, weather, GPS information and more — plus our Database Concierge database transfer and management capabilities. At home you can download selected databases onto your mobile device, using the Garmin Pilot app. Then, once you get to the airport, Flight Stream 510 will automatically establish a wireless connection to the Garmin Pilot app and upload the databases from your device to your GTN in minutes. GTN then automatically transfers and synchronizes your databases to G500/G600 and TXi series flight displays as well as other GTN systems behind the scenes.
Learn More About GTN 725
With installation approval available for hundreds of aircraft models, adding a GTN system to your cockpit is a straightforward, all-bases-covered proposition. It meets certification requirements for FAR Part 23, 25, 27 and 29 operators and is approved for installation by multiple aviation authorities, including the FAA in the U.S., EASA in Canada, TCCA in Canada and ANAC in Brazil. User familiarization courses are available in person or online, and self-study options are available via our free downloadable PC Trainer or iPad® app. And for worry-free flying, your GTN system comes with an industry-leading 2-year warranty (and optional FlightLevel Extended Warranty), backed by our award-winning product support team. See your authorized Garmin installation center for more information on scheduling a GTN upgrade for your aircraft.
1Reference the supported interfaces tab for compatibility details
2Additional hardware and/or compatible mobile device app required
3Subscription plan(s) required
iPad is a trademark of Apple Inc., registered in the U.S. and other countries.
The Bluetooth word mark and logos are registered trademarks owned by Bluetooth SIG, Inc. and any use of such marks by Garmin is under license. Wi-Fi is a registered trademark of the Wi-Fi Alliance.