Garmin GTS 820 TAS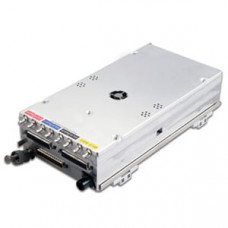 Alertness. Vigilance. Situational awareness. They're the most vital safety factors any pilot can bring to the cockpit. But for added protection in busy airspace, Garmin's GTS™ family of ADS-B enhanced Traffic Advisory Systems (TAS) and Traffic Collision Avoidance Systems (TCAS I) can make a world of difference. Featuring exclusive Garmin CLEAR CAS™ technology, these attractively priced systems provide accurate, dynamic surveillance of nearby transponder-equipped aircraft – with ATC-like spoken audio alerts to help pilots see and respond instantly to potential flight path intrusions.
Faster Detection Means Better Protection
Using advanced "NextGen" system concepts, the GTS 820 offers built-in ADS-B receiver technology which is enabled with installation of a Garmin GTX 330 ES "extended squitter" Mode-S transponder (sold separately), or other complementary class of ADS-B "Out" equipment, such as Garmin's GDL 90 Universal Access Transceiver (or UAT).
The system can display traffic symbols and advisories on a variety of compatible display products in the cockpit. And by synthesizing both active and passive traffic surveillance, the GTS 820 is able to automatically report and receive more stable, and more detailed, traffic data – including aircraft flight ID, GPS-based positioning, relative direction and altitude, plus vertical and course trend vectors (if available, on compatible displays). Thus, instead of just seeing random targets, pilots can now identify and track specific aircraft flight trajectories with much greater precision. So, in busy airspace, they're able to fly with a much clearer tactical picture of their immediate traffic situation.
This is Serious Show-and-Tell
The GTS 820 can track up to 60 traffic targets simultaneously – and display up to 30 intruder threats at a time, depending on the specific capabilities of the display system being used. (There is no dedicated panel instrument for Garmin TAS; it interfaces with many compatible displays.) Targets are depicted using familiar TCAS-defined symbology. And selectable horizontal display ranges let pilots configure the presentation to their specific flight requirements.
Voice Alerting Helps Keep Heads Up, Eyes Out
Instead of the generic "Traffic, traffic" voice alerts of some earlier-generation systems, the GTS 820's exclusive CLEAR CAS technology provides for expanded audio messaging in an ATC-like verbal format: "Traffic. One o'clock. High (or Low or Same Altitude). Two miles." If surveillance bearing information is not available on the intruder, "Traffic, No Bearing" is annunciated.
By vocalizing more specific traffic­-spotting information, the GTS 820 lets pilots know instantly where to look without going "eyes-down" to locate the intruder target on the cockpit display. This can save vital split-seconds in a fast-converging situation. And sometimes, those extra split-seconds can mean a lot.
There's More than One Way to Keep Your Distance
The Garmin GTS family of TAS and TCAS I systems offers a full range of traffic surveillance capabilities to fit your specific aircraft and operational criteria. Engineered for faster, higher-performance GA singles and twins, the GTS 820 offers 250 watts of nominal power output, a +/- 10,000-foot vertical separation maximum, and up to 40 nm of active interrogation range in the forward direction. All GTS units will operate to 55,000 feet. And a Garmin Mode-S transponder (sold separately) is required as part of the GTS 820 system installation.
Select from a Variety of Antenna Options
To optimize signal reception for all types of aircraft, Garmin offers a wide selection of antenna models and configurations. The typical GTS 820 installation includes both top-mount directional and optional bottom-mount antennas (directional or omni) to help maintain surveillance on aircraft directly below you – while minimizing target drop outs during turns and maneuvers. For high-speed aircraft, optional low-profile directional antennas are also available.
In addition, the GTS 820 package includes a 4-channel GPA 65 power amplifier/low noise amplifier (PA/LNA) to be remotely installed near the top directional antenna. Its purpose is to boost antenna performance while minimizing power consumption – thus enhancing system efficiency. See your Garmin dealer for full installation details.
Garmin GTS 820 TAS: The faster you fly, the smarter it looks.