Garmin GWX 70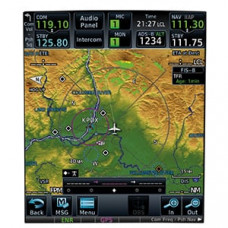 With its advanced solid-state transmitter design eliminating the need for life-limited magnetron tubes, the GWX 70 — and GWX 70H that's been made more rugged for helicopter operations — comprises the very latest and most reliable technology in onboard weather radar.
Scan with Doppler Accuracy
Bringing full-color storm cell tracking to your compatible Garmin multifunction display, this Doppler-capable weather avoidance tool combines excellent range and adjustable scanning profiles with precision target definition — for accurate, easy-to-interpret, weather analysis in the cockpit. With pilot-adjustable horizontal scan angles of up to 120°, you can easily focus scanning on the areas you want to watch, while vertical scanning lets you focus on storm tops, gradients and cell buildup at various altitudes. Plus, Weather Attenuated Color Highlight (WATCH™) can identify areas beyond the radar's capability that may contain even more hazardous areas of precipitation.
Reduce Pilot Workload
On compatible displays, altitude compensated tilt in the GWX 70 reduces your workload by needing to manually adjust the radar's tilt; simply set it once to the tilt angle you want, and it will automatically adjust with any change in altitude. Also, when interfaced with your aircraft's analog gyro or AHRS system, the GWX 70 offers full radar stabilization to 30 degrees of pitch and roll. The GWX 70 also has a ground mapping mode that can assist in a number of applications -- including navigation. Ground mapping mode provides a real-time depiction of the terrain below you.
Experience Solid-State Reliability
With its digital design, the GWX 70 provides reduced power consumption and extended life when compared to previous generations of magnetron-based radars. While magnetron tubes degrade or burn out over time, the solid-state technology in the GWX 70 maintains a consistent weather picture its entire lifecycle – all while only using 40 W of power. What's more, the all-in-one antenna/receiver/transmitter unit is available in 10", 12" and 18" radomes, so it easily installed on a wide variety of aircraft configurations.
Upgrade to Advanced Features
The GWX 70 you buy today is prepared for the technologies you might need tomorrow. You can unlock a wealth of new functionality in your GWX 70, such as ground clutter suppression, which identifies radar ground returns and removes them from the display – taking the guesswork out of interpreting what's on your screen. And optional turbulence detection can determine areas of turbulence that might contain particulate, like rain or hail. These capabilities are available through simple software upgrades, eliminating the need to purchase new hardware in the future.