Garmin GDL 51R (Certificated) - SiriusXM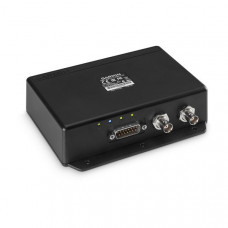 Remote-mount SiriusXM® Receiver - For Certificated Aircraft
Add a SiriusXM® Link to Your G3X Touch™ Installation

Receive SiriusXM satellite aviation weather and digital audio entertainment¹
Remote-box datalink solution for G3X Touch glass flight display systems
Easy to install; supports up to 2 wired display connections and 2 Connext® wireless connections for compatible mobile devices and Garmin portables
Access high-resolution NEXRAD imagery and METARs weather information
Provides compatible mobile devices and Garmin portables with GPS position data, backup attitude3 and more
For pilots flying with G3X Touch flight displays, the GDL 51R remote receiver brings a full array of SiriusXM satellite services to the cockpit. It lets you access continuous, detailed aviation weather content from any altitude — plus more than 150 channels of digital-quality music, news, sports and other entertainment programming. When installed with your G3X Touch avionics, GDL 51R makes it easy to tap into the weather features and audio channels you want. Better still, you can use our Connext wireless connectivity to stream SiriusXM services onto multiple Garmin aviation portables (including aera® 660, aera 796 or area 795 series) as well as iPad® tablets and mobile devices with the Garmin Pilot™ app. So you get more access — on more devices — without spending more money.
Works with a Variety of Devices
Providing multiple display outputs and viewing options, GDL 51R works not only with your G3X Touch avionics, but it can also communicate simultaneously with the Garmin Pilot app running on your compatible iPad tablet or mobile devices². Likewise, if you fly with an aera 660 or 796/795 series aviation portable, the receiver's data links can also be accessed (via wired or wireless connection) with these products as well. Plus, to help you maintain the most current weather picture, GDL 51R can queue the weather from SiriusXM while the display device is sleeping or turned off so it automatically updates when you turn the screen back on.
Satellite-delivered Weather
Continuous SiriusXM satellite updates — accessible by ground and air — can help you make better, more timely flight decisions. The SiriusXM network's powerful satellites deliver seamless coverage across the continental U.S. and its coastal regions as well as southern Canada. (See coverage map.) Choose from available SiriusXM Aviation weather packages that provide METAR data and animated NEXRAD imagery plus current reports on precipitation, lightning, winds aloft, echo tops, turbulence, freezing levels, TFRs and more.
Great Sound Made Easy
With your GDL 51R remote receiver, you can choose wired or wireless Bluetooth® audio connections to enjoy the high-quality audio entertainment channels provided by SiriusXM¹. Volume adjustments and station selection may be accessed through your compatible G3X Touch display, Garmin aviation portable or mobile device app. If you prefer, you can also opt to hardwire the GDL 51R through your compatible audio panel (or use the wireless connectivity of our GMA™ 245 or GMA 245R) for routing through the cabin headsets.
Built-in GPS and Attitude Sensors for SVX™ Display
In addition to its satellite weather and audio entertainment capabilities, your GDL 51R feature set includes a built-in WAAS GPS receiver. This enables GDL 51R to deliver highly accurate aircraft position, speed and altitude information to your compatible mobile device app. Also, built-in attitude sensors enable select Garmin aviation portables and apps with our SVX synthetic vision technology to serve as a backup attitude reference3 during your flights. With virtual terrain, obstacles, runways, horizon cues, HSI, GPS speed, altitude and more, this brings a whole new perspective to your portable navigation.
Get Sirius
For pilots who want advanced weather capabilities plus an array of audio entertainment options, the GDL 51R remote receiver is one of the simplest and smartest ways to interface with your G3X Touch avionics. And by going with Garmin, your receiver will be backed by a comprehensive 1-year warranty — and by the industry's No. 1-ranked product support team.
Compatible with Garmin Pilot App, G3X Touch, aera 796/795, aera 760, aera 660, FltPlan Go, ForeFlight Mobile


Physical Details
Unit dimensions, WxHxD: 6.1" x 1.6" x 5.0" (15.49 x 4.06 x 12.7 cm)

Weight: 0.78 lbs (0.35 kg)
Performance
Operating temperature: -20°C to +60°C (-4°F to 140°F)

Operating altitude: To 55,000 ft
Nominal operating velocity range: 0 – 800 kts (411 m/s)
Power input: 10 to 32 VDC, 3.5 W max.
Connections
15-pin standard D-sub power and data connector
SiriusXM® TNC antenna port
GPS BNC antenna port
Wireless Connext™ (Bluetooth®)
¹Subscription required and sold separately. See SiriusXM.com/aviation for details. Not all SiriusXM weather products may be available across all devices. Check your Pilot's Guide for specifics about which products are available on your device
²See your dealer for our growing list of compatible devices
3The attitude information provided by GDL 51R is not intended to be a source of attitude information for flight in instrument meteorological conditions
Apple and iPad are trademarks of Apple Inc., registered in the U.S. and other countries. The Bluetooth® word mark and logos are registered trademarks owned by Bluetooth SIG, Inc. and any use of such marks by Garmin is under license.