KRT2 8.33 Transceiver, Colour, Mini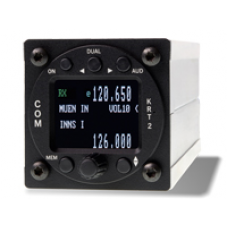 Includes the LT1 connector.
The first KRT 2 set new standards in terms of user interface, light weight and low power consumption and now been further engineered to enhance its popularity with a new extra bright colour display together with one version that is even smaller than the first model in terms of panel space required. The entire electronics assembly for the most part is digitized to give the highest possible frequency stability. Digital technology means that the radio offers:
Low cost

Flexible functional diversity with future enhancements by software upgrade

Energy efficient – particularly relevant for glider and balloon pilots, and for powered aircraft without electrical power, (only 1.6W standby)

Extremely small and light weight construction

Two case types available:
Standard 56mm with 62mm height x 63mm width (KRT2 V2 STD) on the left, below
Slim version 46mm height x 63mm width (KRT2 V2 SLIM) on the right, below.
Designed by pilots, the entire KRT 2 operation is extremely intuitive and user friendly even under demanding flight conditions. The KRT 2 has two outputs for headsets and speakers to meet all likely requirements. With "Dual Watch" you can listen to two frequencies at the same time which may differ in volume and tone. This way you can, for example, approach an airfield while both listening to ATIS and simultaneously clearing your approach with the controller. Having the active frequency (top) prevents confusion.
The KTR 2 offers a database where you can store 100 airport frequencies which are displayed in plain text on a sunlight readable graphic display. Using the integrated interface, you can also remote control the KRT 2. In a tandem configuration you will be able to connect a "Remote Terminal" with the full functionality of the KRT 2. Another option is to connect to a Glass Cockpit FCA / GCA. With the help of an adjustable distance to the control area, the ATIS and the corresponding frequency will be displayed and can be activated by simple confirmation.
Device Info:
VHF transceiver for aircraft installation
Frequency range from 118.000 to 136.975MHz
Channel spacing 8,33 / 25kHz (2278 channels)
2 microphone inputs (2 x standard or dynamic)
Audio input for external audio sources (Alert, Vario...)
Installation: aerospace standard cut out (57mm)
100 user defined frequencies, to be named with up to 8 characters
Only 144mm long, plus connector
Connector with soldering kit
is not included
at this low price.
Available Accessories:
Wiring harness with open ends for single seat glider
Wiring harness for 2 seats power or glider with pair of mic and headset fitted
Wiring Harness for 2 seat glider with wiring for Remote unit
Wiring harness with headset sockets for single seat power or glider
Adapters are available for easy installation of KRT2 in replacement of the transceivers shown below:

Adapter KRT2 - Becker 3201
Adapter KRT2 - Becker 4201
Adapter KRT2 - Filser ATR 720
Adapter KRT2 - Dittel FSG 40
Adapter KRT2 - Dittel FSG 71
Adapter KRT2 - Funkwerk ATR 500
Adapter KRT2 - Microair

Panel Adapter KRT 2 to ATR 720