ATR 833-OLED-2K Transceiver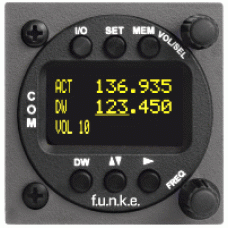 The very popular ATR 833 OLED offers a very bright display and ease of operation. Available with Remote control for operation in tandem seated aircraft
Certification: ETSO Certification received on 26 10 2004:
EASA 210.0193
Functions:
8.33kHz channel spacing (but supports 25kHz spacing)
4 line LCD for easy operation
Memorises frequencies with name codes
Approx. 100 channel memory with fast access
Dual frequency watch (listen only on second freq)
Auto Tx off after 2 minutes
Jeppesen database (please note that the integrated Jeppesen database is optional and is not warranted for integrity and accuracy but is offered as additional help and not as a primary source of information)
Technical Data:
Frequency range: 118.000MHz

–

136.975 MHz
HF output power: approx. 6W
NF output power: approx. 4W
Dimensions: 57mm hole in panel; length 178mm (without connector)
Power consumption: approx 150mA standby; 1.8A during transmission
Power Supply: 10.5V – 14V
Supplied with connector; optional pre-wired harness available.