ATR 833a OLED Transceiver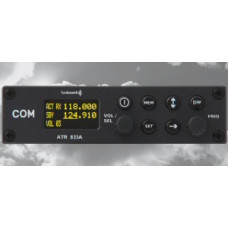 The ATR833A is a VHF radio in 160mm format with the new channel separation of 8.33kHz. The channel spacing can be switched between 25kHz and 8.33kHz.

The built-in voice controlled intercom operates up to 4 microphones (2 standard, 2 dynamic). In many cases no extra intercom is required. This saves cost and weight. All headsets are separately adjustable. Using similar headsets a 4-place intercom can be built-up.
In addition to the standard functions there are 2 memory functions available: Up to 100 frequencies can be stored together with an identifier. In addition, the 10 last used frequencies can be recalled easily. The OLED display gives perfect readability under all lighting conditions.
Features:
VHF transceiver with 6W output power in 160mm format
Satisfies upcoming equipage requirement for 8.33kHz channel spacing
Automatic selection of 8.33kHz/25kHz spacing
OLED display for best readability under all conditions
Dual-watch technology, simultaneous monitoring of two frequencies
Voice controlled intercom for up to 4 microphones, can be deactivated for use with external intercom
Memory for up to 100 user-definable named frequencies
Easy recall of the 10 last used frequencies
Configurable energy saving mode
Specifications:
Dimensions 160 x 41.3 x 175mm
Weight ca. 800g
Power supply voltage 13.75V DC
Current (standby) ca. 150mA
Current (transmitting) ca. 1.8A
HF Transmitter power 6W
Audio output power 4W