Winter 57mm Vario +/- 10kt with 450cc Flask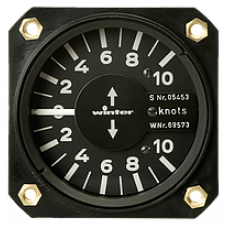 Gebr. Winter variometers are standard fitment in many glider cockpits and LX avionics stocks the 57mm and 80mm versions with dials marked for plus or minus 10 knots. Other versions are available to order.
Capacity flask (0.45l) with heat sink is included.
A MacCready ring option is available to order and can be supplied with the relevant speeds engraved to customer order.
Mounting screws included with all instruments
Supplied with EASA Form 1