Kanardia 80mm EMSIS as a Slave Unit to NESIS or EMSIS PFD or DAQU on CANBUS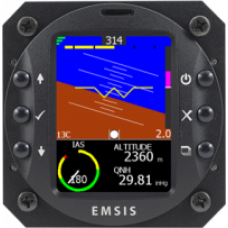 EMSIS/PFD has already become very popular as a Primary Flight Display (PFD) but it is also a simple to use and affordable engine information system which can be used in conjunction with the larger NESIS or as a standalone instrument. Emsis is available as a standalone instrument or secondary EMS, PFD or Navigation instrument. All Kanardia devices can be connected together and use a CANBUS system.
Features:
Emsis, when used as standalone engine monitoring EMS, can show:

CHTs
EGTs
Engine RPM
Rotor RPM
Fuel flow
Fuel level (up to two tanks)
Alternator and battery current
Voltage
Oil pressure
Oil temperature
Water (coolant) temperature
Airbox temperature
Manifold pressure
Pneumatic pressure
And when used together with Nesis or PFD instrument, it can show:
Airspeed (IAS and or TAS)
Altitude
Vario
Engine time
Emsis PFD shows:
Attitude (roll, pitch)
Indicated airspeed (IAS)
Altitude
QNH settings
Vario, (climb and descent)
Heading rate (1 minute and 30 seconds turn - adjustable)
Outside air temperature (OAT)
Track
Advantages:
Low cost (for what it can provide)
Extremely low power consumption (2.5W at 12V)
Unbelievably bright display
Lightweight design, (approx 400 gm)
Nesis and CAN bus compatible
Feature rich
Sensors:
All sensors except the OAT are integrated.
Precise altitude pressure sensor - connects to pitot static
Precise IAS (indicated airspeed) sensor - connects to pitot static
Three angular rate sensors - gyros (one per each axis)
Three accelerometers
GPS receiver
Digital outside
Option:
Mapping can be loaded as a pay-for option.