Wing Wheel Grob G103 Model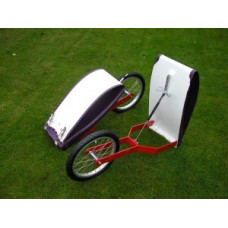 With a flexible GRP front hinge and two heavy duty clips at the rear this wing wheel is made for demanding use; it is 300mm wide and fits at the wing tip of the G103. The shells are lined with vinyl as opposed to foam as on the other models. It can be partially collapsed for easy storage.

Maintenance Alert:
Two instances have occurred of failure of the fitting at the top end of the gas strut (next to the black cylinder). The failure has been initiated by the fitting becoming unscrewed sufficiently to allow it to flex on its shaft leading to fracture of the shaft.