ARC-1 Flight Computer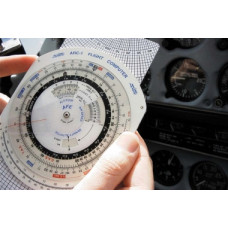 The most modern, accurate and user-friendly PPL flight computer around. Made in the UK to the highest standards, to be the most accurate, quickest and most comprehensive PPL navigation computer yet produced.
Quickest? Yes, because the clear and accurate printing, together with the smooth, grab-free operating mechanism makes it easy to obtain fast, accurate calculations.

The 'wind scale' side is used for pre-flight calculation of heading and groundspeed and crosswind component, useable down to speeds of 20 knots (i.e. no need for a separate 'microlight' wind slide) and up to speeds of 850 knots.

The 'conversion' side can be used to convert between units of distance, temperature, weight and volume; to calculate true airspeed, density and true altitude; to calculate fuel consumption, specific gravity and all time/speed/distance variables.

The ARC-1 is designed for accuracy and ease of use for JAR, NPPL and equivalent PPL examinations and built for durability and reliability. Thousands of PPLs and student pilots have passed their navigation exams using the ARC-1, which has a well-deserved reputation for accuracy, reliability and ease of use.

Supplied with marking pencil and eraser and a fully illustrated, 70 page instruction manual (no need to wrestle with incomprehensible and un-illustrated booklets!).