PA38 Checklist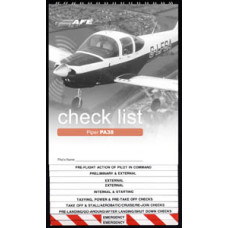 The AFE Piper PA38 Tomahawk checklist is designed to be used in conjunction with the 'Pilot's Guide' series, AFE aircraft checklists remain unique in having been designed and written by a flying instructor experienced on each particular type.

In keeping with AFE's design philosophy, every checklist is thoroughly researched and verified against manufacturer recommendations, standard training procedures, operator practice and practical operating experience.
Particularly popular with flying school operators, AFE checklists have wiro binding and cutaway titles for ease of use and the emergency sections are clearly delineated in red.
Also included are a crosswind component calculation graph and take-off & landing distance factors.

• Designed and written by an instructor experienced on type, based on manufacturer's recommendations
• Single wiro binding and cut-away sections headings for ease of use
• Emergency sections clearly marked.

Include crosswind component graph and performance factors

Piper PA38 Tomahawk checklist, suitable for Tomahawk I & II.