VB1 A5-size folding Kneeboard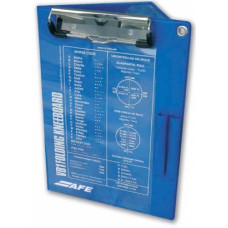 The classic AFE kneeboard design, ideal for student pilots and for use in light aircraft, helicopters and enclosed cockpit microlights.

The foldover design uses the minimum space when closed, but provides extra storage options and writing space when opened out.

The VB-1 is printed with invaluable aide-memoire information such as the phonetic alphabet and Morse code, quadrantal and semi-circular rules, transponder codes, light signals, RT standard call, search and rescue signals etc.

The front face has a clear cover, pen pockets and stopwatch holder opening. Inside is an angled pocket and clear cover flap, with an elastic fastener to the rear face to keep the kneeboard on your leg.