High visibility Vest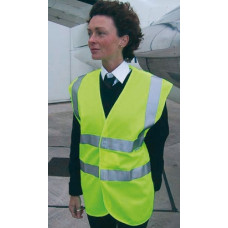 High visibility (hi-viz) dayglo vest with AIRCREW logo

A High-visibility vest is ssential for airside access at most airfields these days, and a sensible precaution even where not mandatory.
Don't get caught out (or run over) with the AFE hi-viz vest. In yellow dayglo material and reflective strips to EN-571 specification, the AFE hi-viz vest meets current CAA requirements.

Generously sized to fit over even bulky outdoor clothing, the AFE hi-viz vest folds down neatly into the AFE aircrew jacket's purpose-designed pocket.

With "AIRCREW" overprint on the back, so people won't think you're a cleaner, or baggage handler, or something..