ASA - Tri-Fold Knee-board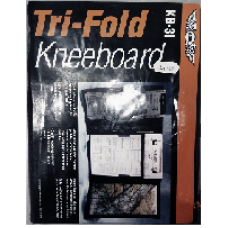 An aluminium single knee-board placed inside durable tri-fold fabric wallet.

Inside the wallet there is storage space for guides, checklists, airways charts etc.
The middle section holds the metal knee-board, with a pen holder on either side and a Velcro strap for attachment to the leg.
The other section has clear plastic cover ideal for maps, plotters, reference cards etc.

(Chart & pen contents not included, shown for illustration only).