ICAO French South West Chart (943) 2016 Edition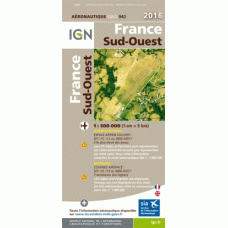 New 2016 Edition

These ICAO standard VFR aeronautical charts for France are produced under the direction of Direction Générale de l'Aviation Civile (DGAC) in 1:500,000 scale. These French aeronautical charts show topographical information for VFR navigation as well as airspace up to FL115 and danger areas, radionavigation aids, obstructions, special airspace etc. These are the standard charts for touring France.
The 'South West' chart is numbered 943 in the French aeronautical chart series.