Trig TT21 in metal box with cordura case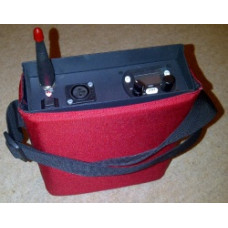 With cordura carry case.
Steel Box, enclosed in a cordura case.
Size: 230mm x 190mm x 65mm
Weight: 3.0 kgs excluding charger
Battery: 12 volt, 4.1 A/H NiMh
Operating Time: In excess of 15 hours from a fully charged battery
Extended Operation: The unit comes with a cable for external power supply and it will switch automatically from internal to external battery for long flights
Charger: Separate Ansmann Automatic ACS110 110-230v
Charge Time: 6 to 8 hours with a fully discharged battery. The charger will automatically switch to trickle charge mode when the batteries are fully charged
Antenna: Supplied with Flexible Stub Antenna as standard (see picture of Standard Delivery) – rod antenna available in lieu if preferred (top left picture). In addition it is supplied with 3 m cable with connectors fitted and ground plane for remote mounting of the antenna.

Antenna Option: SP-1090-4 Folded Top Antenna (see accessories)