funke ATR833S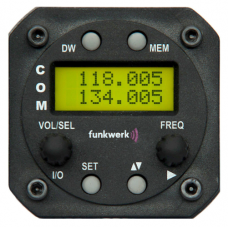 ATR833S VHF transceiver – ex-stock
SELECTED BY THE ROYAL AIR FORCE FOR ITS FLEET OF AIR CADET GLIDERS
The ATR833S replaces the well-known ATR500 radio; it complies with the new channel separation of 8.33 kHz.
The ATR833S is a completely new development.
The RF signal is digitally processed directly after the first intermediate frequency; the whole audio processing including intercom is also completely digitized.
The ATR833S also has a built-in 4 place voice controlled intercom with the same functionality as the well-known ATR833.
One main objective during the development of the ATR833S was to deliver simple and intuitive operation and it will appeal to pilots who appreciate the essence of easy operation.
The bright two-line LCD display of the ATR500 was deliberately chosen as it is easy to read with just a few additional icons giving additional information.
Technical Data
Dimensions 65x 65 x 163 mm
Weight 380g / 0,84 lbs
Power supply voltage 10 / 28V DC
Current(standby) ca. 220 / 120 mA
Current transmit ca.1,3 / 0,65 A
Transmitter power 6W
Audio output power 4W
Standards ETSO-2C169A
Transmitter Class 4, 6.
Receiver Class C, E, H1 & H2
ETSO-2C128
Certification EASA.210.10060316
TSO-C37d,RTCA DO-186A Class 6 &4
TSO-C38d,RTCA DO-186A Class E & C
Normally ex stock UK.