Yaesu FTA-450L Hand Held 8.33 Airband Transceiver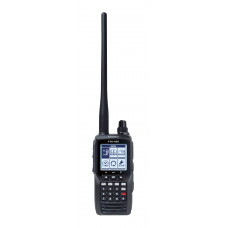 Airband Transceiver
Huge Full-Dot Matrix Display and Advanced User Interface.
Features:
5 Watts TX Output Power (Air Band: AM 5W P.E.P. typical, 1.5W carrier)

8.33kHz Narrow Band Compatible

200 Memory Channels with 15 alpha-numeric characters

Includes High-Capacity Rechargeable Li-Ion Battery Pack (7.4 V 1800 mAh)

External-DC input for Operation and Charging

Includes Alkaline Battery Tray (6 x AA)

NOAA Weather Channel Receive (where available)

NOAA Weather Alert (where available)

Back-lit Keypad and Display with Dimmer

PC Programmable (Included USB Cable)
Supplied Accessories:
Antenna (SRA-13A )
Belt Clip
Li-Ion Battery Pack (SBR-12LI 7.4V,1800 mAh)
AC Charger (SAD-11)
Charger Cradle (SBH-11)
Cigarette Lighter DC/DC Converter(SDD-12)
Headset Adapter Cable (SCU-15)
Alkaline Battery Tray (SBT-12 6 x AA)
USB Cable (T9101606)
Operating Manual
Warranty Card
CAA Approval
http://www.caa.co.uk/General-aviation/Aircraft-ownership-and-maintenance/8-33-kHz-radios/
Click on LA3 approved equipment.