LX Navigation Flarm Eagle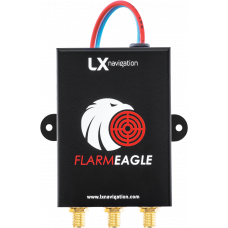 LX FLARM EAGLE is the smallest and lightest PowerFLARM production the market. Reduce your weight and improve performance.


Brand new PowerFLARM OEM Module
Latest and Smallest PowerFLARM available
Improved transmission and receiving
IGC Flight Recorder and ENL sensor (optional)
Standard RJ12 data, SMA GPS and SMA FLARM RF connectors
Power consumption: 80 mA @ 12V
Power supply: 9-36V DC.

What's in the box

LX Flarm Eagle
Dipole RF Antenna
Diverstity Dipole Antenna (Pro version only)
GPS Antenna
Quick guide
Baro-Calibration chart

Read the full story at www.lxnavigation.com